Awesome Gang Authors Newsletter
Author Interviews
Corrine Ardoin
Tell us about yourself and how many books you have written.
I have lived in California all my life, preferring the quieter, scenic places. I love animals and nature and have spent much of my life pondering life's big questions. My interest in birds led me to write several birding guides and my first published book, A Natural History of the Nipomo Mesa Region. As a musician and poet, I've performed in festivals and theater, though I always come back to writing stories. My first novel was published by Black Rose Writing and they are going to publish my second novel, too, in May 2021. Fathers of Edenville and Mothers of Pine Way are Books One & Two in my Pine Valley Series. I have already written Books Three & Four. Look for them in the years ahead! I live on the Central Coast of California, appreciating the nearness to the beach, since I now live in the suburbs. I also have a serious love for reading while enjoying a good cup of chai made with almond milk!
What is the name of your latest book and what inspired it?
Fathers of Edenville was my first published novel. My latest novel is Mothers of Pine Way. They are the first two books in my Pine Valley Series which is set in the fictitious small town of Edenville and follows the lives of its residents, both straight-laced and naughty, some definitely quirky!
I was inspired to write Fathers of Edenville when I had a premonition about my father's death. I sat down to write a what-if story, what if he died, how would I react. I was surprised it was a fiction work, my first novel. Likewise, facing my mother's aging and fearing for that loss, I wrote Mothers of Pine Way. There is a fifteen-year span of time between the two books, which bothered me. One day, though, I pulled out a chapter I wrote years ago and took off with it, happily surprised it was the sequel to my first book! Books Three and Four came easily after that.
I had so much fun writing, drawing from observations, memories of my own hometown childhood years, quirky people I've known, dreams, wishes, and the like. All have gone into the story. I learned a valuable lesson as a writer, that if I can't go there, neither can my
characters. Jim Hart was the most challenging character I depicted in my books. He is an emotionally disturbed alcoholic, which forced me to explore the darker areas of myself, something that actually brought me some very deep healing. I am very thankful for Jim Hart.
Do you have any unusual writing habits?
I have purchased numerous journals and fancy little booklets to write in, but I always end up using the blank side of already printed paper that I save for recycling. I stick it in a clipboard and write away. I also have periods of insomnia and get up in the night to write. Some of my most profound and creative stuff has come out of the wee hours of the night. I keep a little black book of wisdom to do my automatic writing, in which I simply write without thinking about it.
What authors, or books have influenced you?
John Steinbeck and the Grapes of Wrath, Harper Lee and To Kill A Mockingbird, Jane Austen, William Faulkner, Sometimes A Great Notion, Jack London, Mark Twain, Tolstoy, California and British authors, and many more, too numerous to name.
What are you working on now?
I am going through my edits on Book Three in my Pine Valley Series, Children of the Way. Book One introduces the town and its main characters. Book Two covers the years leading up to the incidents that take place in the first book. Book Three returns to the childhood years of these characters, showing their parents' lives and delving more into the source of their difficulties.
What is your best method or website when it comes to promoting your books?
I am learning that timing is everything! I rely heavily on my publisher's marketing guru and on sites like Awesome Gang for that extra support I need that I can pursue on my own. I also like to promote on Linkedin. I have been building connections with some really great people that way. I also joined AuthorsDen, which I actually like better than Goodreads.
Do you have any advice for new authors?
Avoid talking about what you're going to write before you've written it. You can take all the creative energy out of your inspiration by talking about it. It can deflate your ideas when you share with someone who is hypercritical or jealous of your creativity. When you're working on something new and need help or guidance, seek it from those you trust (not relatives!). Trust your gut and your instincts! Be thankful for your creative gift and never take it for granted. Write, write, write. Without criticism, without editing, simply get it all down on paper! Once you tap into that creative stream, go with the flow.
What is the best advice you have ever heard?
I listened to Ray Bradbury speak at the Santa Barbara Writer's Conference in California many years ago. He said, if you want to write a book, write a page every day. By one year, you will have written a 365-page book. I've followed his advice religiously and it has never let me down.
What are you reading now?
I always juggle a few books. I'm reading Tali Nohkati by Koza Belleli, On Viney's Mountain by Joan Donaldson. I just got Talking As Fast As I Can by Lauren Graham, which I can't wait to start reading! I'm watching The Gilmore Girls series right now, so I"m looking forward to reading her book.
What's next for you as a writer?
I hope my publisher will agree to publish Books Three and Four of my Pine Valley Series,
Children of the Way and The Valley of Dreams. My fantasy is that the series will be made into a television series. Of course, I would love to be interviewed by Oprah Winfrey.
If you were going to be stranded on a desert island and allowed to take 3 or 4 books with you what books would you bring?
Besides books on how to survive on a deserted island, I would bring Ramona by Helen Hunt Jackson, Go Set A Watchman by Harper Lee, and Pilgrim of Tinker Creek by Annie Dillard, because I can never seem to get around to reading them.
From the Santa Maria Sun
Santa Maria author Corrine Ardoin revisits her rural town roots in her new novel, Fathers of Edenville
By CALEB WISEBLOOD
Repressed childhood memories haunt four residents of a quiet mountain community in Fathers of Edenville, Corrine Ardoin's first novel. The Santa Maria author previously penned a local historical text, A Natural History of the Nipomo Mesa Region, but Edenville marks her first foray into long-form fiction.
The novel hit virtual book stands on April 16 (available to order through Amazon, Barnes and Noble, and other outlets), but invitations had already been mailed out for Ardoin's private launch party before stay-at-home guidelines went into effect. The local writer also had book signing events lined up at the Book Loft in Solvang, the Lompoc Bookstore, and the Dana Adobe in Nipomo, throughout the month, which were inevitably canceled.
While the future seems full of more universal uncertainties than usual, Ardoin's Edenville offers readers a somewhat cathartic dive into the past—but not just any past, rather her own past. Although the characters are fictional, Ardoin used memories of her own rural upbringing to help realize the town of Edenville (a setting she plans to explore even further in three upcoming sequels).
The novelist recently opened up to the Sun about her new book and the morbid real-world fear behind its poignancy.
Sun: What inspired you to write Fathers of Edenville? And is it true that writing the book was therapeutic for you?
Ardoin: I wrote to help me cope with the impending loss of my own father. Several years ago, I had a friend who lost her father and was not coping very well with that. I also lost two friends to cancer and, then, my sister. Death was huge in my life at that time, and I began to sense my own father's end of life coming soon. I decided to write about what it would be like to lose a father, and the result was my first novel, Fathers of Edenville.
Sun: What made you choose to tell this story as a novel? I understand you wrote the book, and several others yet to be published, before writing A Natural History of the Nipomo Mesa Region (although the former was published after the latter).
Ardoin: I always wanted to write literary fiction, much in the vein of other California authors, like John Steinbeck and Jack London. Ray Bradbury was a major influence on me. One of the things Bradbury taught me was that, if you want to write a novel, begin by writing one page a day. By the end of the year, you will have written a book. I followed that religiously and have since written maybe a dozen books. I sit down to write and, without any hesitation or trying to think about what I should say, I just start writing.
Sun: What's the key to handling a rigorous writing schedule like that?
Ardoin: I find it necessary to discipline myself, treat my writing like a job, schedule my day loosely. Working at home, there are always chores nagging and an itch to get outdoors, so I try to take these into consideration when I lay out my work for each day. I write every day, though not always with a goal in mind, simply because I need to write and it helps me process day-to-day concerns as well.
Sun: Did it take a year to finish writing the novel? (As Bradbury would have predicted). Or is your average output less or more than a page a day?
Ardoin: Sometimes it ends after a page or a few pages, but with this book, I kept going and got so interested in the story, having so much fun letting my imagination and sense of humor run, that I was done in a few months with the rough draft.
Sun: What were some of the most challenging roadblocks for you in terms of getting the novel published?
Ardoin: Two months after I completed the rough draft for Fathers of Edenville, my father passed away. I tried to get the book published over the next couple of years, but compounded grief took its toll and I put the book in the closet. I wrote other books, but repeated rejection letters can get tiresome. My Natural History of the Nipomo Mesa Region was a great success and kept me going. Fortunately, I revisited my novel a few years ago, fell in love with it again, and found myself writing the first sequel, Mothers of Pine Way, and then two more sequels. I felt my confidence grow, so I sent query letters out again and got a response immediately from Black Rose Writing. They wanted to see my book and, within two weeks, I signed a contract with them. I guess the timing was right!
Link to the Article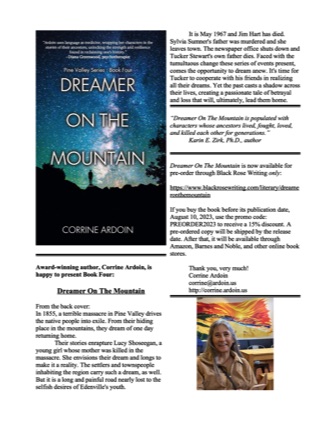 August 2023 Author Newsletter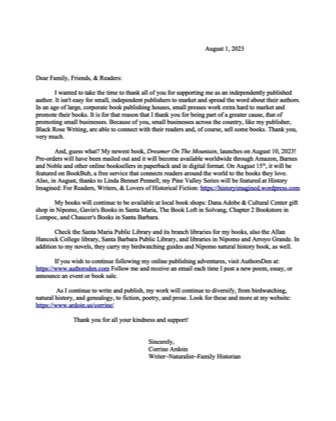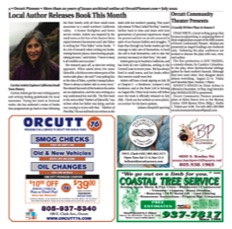 Orcutt Pioneer - July 2022