Fathers of Edenville recieves great reviews.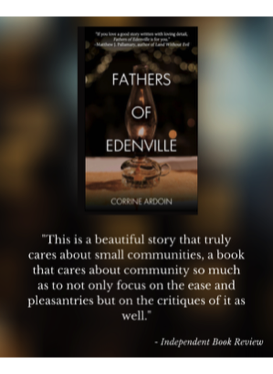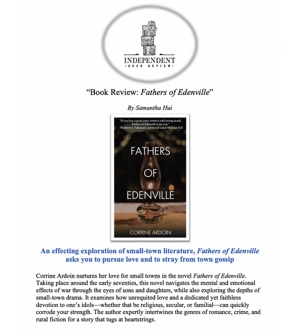 Weaving in and out of time, five young adults reflect on their past and present lives together in a small town. A love triangle from high school days reasserts itself as they try to free themselves of the dull, meaningless marriages in which they are trapped. Murder attempts, rumors, misjudgments heighten the tension of this gripping and convoluted story that leaves you flipping through the pages wondering, "What will happen next?" -Patricia Hilliard, Goodreads member

Set in a small mountain community, circa 1960s, this story examines the dark obsessions of some of the community inhabitants. Told through a third person perspective, and nebulously flowing between characters and time, there is a dreamlike quality to the story. At its heart, this story is an examination of relationships, repressed childhood memories and the impact of physically and/or emotionally absent fathers. Ardoin's descriptive prose makes it easy to visualize the story. While parts of the story did not work all that well for me, I really like how the author conveys the interconnected nature of the community and the impact that misinformation, and lack of action, can have on people and events. It is always tricky to communicate character development when using the third person perspective, but the author pulls this off rather well. The story, for me anyways, is just as much about how the characters view themselves and are viewed by others. While I admit to not being all that taken with the story at first, by the time I got to the end, I was rather surprised to discover just how much the story had drawn me in. One of those sleeper stories that slowly ensnares the reader as the story develops. Overall, a darkly poignant story of the destructive nature of obsessions. -Library Thing Early Reviewers

Fathers of Edenville is a work of fiction written in the literary style by author Corrine Ardoin. A darkly dramatic tale penned for mature reading audiences, this slice of life explores powerful themes of jealousy and unfaithfulness in relationships. The central figures in this intrigue are Sylvia Sumner and her husband Forty, Sylvia's lover Jim Hart, and Tucker Stewart, who has always adored Sylvia since their high school days. When one of them is suddenly found dead, questions arise and the past is examined with a painfully raw process of psychological unraveling to find the truth. Seeking redemption and salvation are high on the list for this complex set of emotions and situations.
Author Corrine Ardoin has crafted a beautifully complex tale of affairs, secrets, family dramas, losses, and lies, and one which any fan of contemporary drama will be sure to adore from cover to cover. The literary style of the work gives it a more sedate pace, but with this comes a much deeper exploration of the psyche and emotional state of the characters which is really intense and rewarding to read. Tucker and Forty were favorites of mine and I was very interested in their dynamic as the tale progressed, but every central character has a chance to shine. The plot handles time jumps and the complexities between past and present really well, and overall Fathers of Edenville is a highly accomplished work. I would certainly recommend it and the author to literary fiction fans everywhere. -K.C. Finn, Reader's Favorite

Fathers of Edenville, by Corrine Ardoin, tells a story about a cuckolded small-town detective, Fortuitous Sumner, his unfaithful wife, Sylvia, murder, and introspection of life. The novel explores the subverted connection between two men who grew up together, and unwittingly became each other's nemesis. Their issues date back to high school years when Tucker Stewart felt his first pangs of jealousy over classmate Jim Hart when he saw how Jim was so popular, respected by his peers, and was the heartthrob of most the girls in school. Jim Hart had been the captain of the football team and had won the interest of the beautiful lusty Sylvia Cadwallader, who was also Tucker Stewart's dream girl. Tucker was striking out with Sylvia, in fact, she actually seemed to avoid Tucker, and that hurt him deep but didn't diminish his desires for her. Jim and Tucker were both in love with her, but neither would marry her.
Ardoin's novel examines the dark obsessions that lie beneath the surface of seemingly ordinary people. With unerring psychological insight, the novel moves characters cross the precarious line separating fantasy from reality. When Sylvia's lover, Jim Hart, disappears, speculation about of his disappearance. Was Jim Killed by detective Fortuitous Sumner; he certainly had the motive to kill this man, who was the wife's paramour or was it Tucker Stewart who was jealous of Jim's illicit relation with Sylvia? Or did Jim's wife decide to put a permanent end to her husband's philandering- or did Jim just take off to escape from his failing marriage and convoluted life.
Ardoin weaves in another thread about two fathers. Fathers who have little to do with their offspring, but why. Fathers who have forgotten that they have children who need their love. When one of them is discovered dead soon after Jim Hart's disappearance, the small town is in an uproar. Are these two tragedies related? Is there a killer on the loose?
The human issues that affect relationships are the foundation for Ardoin's story, she builds mystery and intrigue around the matter of what makes men men, and women women, and how they reconcile their love and sexuality individually, and together.
Ardoin's novel is told in the third person, and oddly enough for a story about the sins of the flesh, it is devoid of profanity and erotic descriptions of adultery. Dark twists and delightful turns follow this unique look at infidelity, cuckolding, jealousies, and a craving for redemption. As you read Fathers of Edenville, you will find yourself drawn deeper and deeper into this dark story of deceit, jealousy, and redemption. -Authors Reading

. . . one can appreciate the beauty of Ms. Ardoin's words as she breathes life into this fictional small town. -InD'tale Magazine

Corrine Ardoin's writing holds an evocative appeal that captures moods, psychological backdrops, and not just events and motivations, but wide-ranging connections between characters. This skill serves her well in Fathers of Edenville because it successfully paints the portrait of a woman who has a lifetime of struggle that stems from her father's estrangement.
As Ardoin explores these connections, missed opportunities, family and love patterns, and the evolution of forgiveness, readers are treated to a story that winds through many lives, offering a compassionate look at characters who each face both their inner demons and lives which turn out quite differently than they'd dreamed.
Each character must confront their fears. In doing so, each discovers the opportunity for not just redemption, but rebirth. The philosophical touches and observations peppered throughout this story lend it a depth and compelling touch that tugs at the reader's heart.
Their struggles to be better people against all odds, the dilemmas posed by parental and love decisions that go awry to create long-term crises, and a murder investigation that rocks the heart of small town relationships creates a story that is multifaceted, gripping, and hard to put down. -D. Donovan, Midwest Book Review